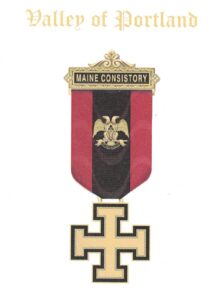 The Valley of Portland, Northern Masonic Jurisdiction, is pleased to announce the rescheduled Maine Consistory Spring Reunion on Saturday, June 25.  The Consistory Degrees illustrate the creation of the ideal balance between the spiritual and the temporal. Please note that you MUST register in advance for this enriching, invaluable degree work. Here is the information you will need to attend and benefit from this important upcoming event:
32° Sublime Prince of the Royal Secret
31° Will be shown at 2:00 digital in the 5th Floor conference room.
When:   Saturday, June 25, 2022
                (Candidate Registration from 2 to 3 p.m.; Degree Work at 3 p.m.)
Where:    Portland Masonic Temple, 415 Congress Street, Portland, Maine
                  (Please use the Chestnut Street Entrance.)

Ladies Program:   During the Degree Work, 3 p.m. to 5:30 p.m.
Social Hour:    5:30 p.m. to 6:30 p.m., with cash bar
FREE Evening Banquet:   6:30 p.m., with Our Ladies
Easy Advance Registration (Required)
You MUST register by Friday, June 17, if you plan to attend the banquet. And please be sure to let us know if your Lady will be joining you. There is no charge for the meal, but we guarantee our count and must pay for it. Unfortunately, we cannot provide meals for those who do not register in advance.
To make reservations for the FREE banquet for you or you and your Lady, please call Secretary Michael J Chambers, 32°, at (207) 772-7711 by Friday, June 17,
or send an email to Secretary@ValleyofPortland.org.
Want to Learn More About the Valley of Portland?
Additional information about the Valley of Portland is available here and on our website. Interested in learning more about local events? Subscribe to our newsletter to stay updated and informed about upcoming events.
New brothers interested in completing the application can do so by filling out the online application here.