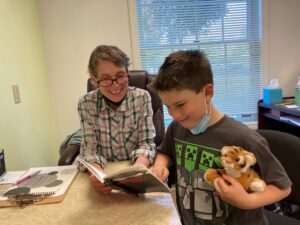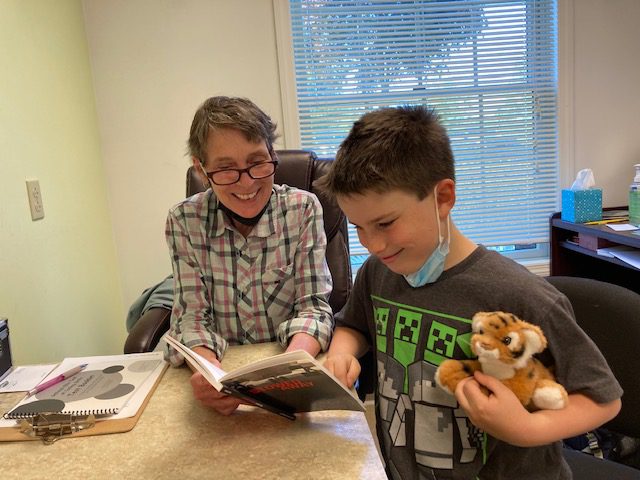 As you go through your life, it's important to ask yourself these critical questions: Do I live the 'Rite' way? How am I incorporating the Scottish Rite's core values into my daily life? How can I support its charities?
Let's take a moment to focus on one Scottish Rite core value—Service to Humanity—and see how the Valley of Portland embraces it through its passionate support of the Portland Children's Dyslexia Center.
A Life-Changing Helping Hand for Young Readers
Do you know that 1 in 5 Americans battles some form of dyslexia? This neurological condition basically "scrambles" how printed words appear on the page to would-be readers. And when those readers are children, the condition can pose a huge obstacle to their educational progress, ability to keep up with peers, and self-esteem.
That's why Maine Masons have—for decades—committed hundreds of thousands of dollars each year to the Bikes for Books reading-incentive program. And why, as a Scottish rite organization, we at the Valley of Portland so ardently support the Portland Children's Dyslexia Center. If a child is struggling with reading difficulties that go unaddressed in local school systems, our support of the Children's Dyslexia Center can make a major, positive impact on the lives of that child.
Long-Time Masonic Partnership with Children's Dyslexia Centers
Children's Dyslexia Centers started 30 years ago in Newtonville, Massachusetts, and have now spread across the Northern Masonic Jurisdiction. Demonstrating our devotion to the Scottish Rite's values, we now help support more than 1,100 children in 45 centers, including one in Rochester, New Hampshire, and two in Maine—one in Bangor and ours in Portland. The Bangor Center will soon celebrate its 25th anniversary, and Portland recently celebrated its 20th.
For a more in-depth look at Maine's Children's Dyslexia Centers, please see the upcoming issue of The Maine Mason magazine, and be on the watch for an exciting new film about the centers being produced with funding from the Maine Masonic Charitable Foundation.
Please Support Our Fundraising Efforts
We urge you to support the Maine Masonic Charitable Foundation's critical support of Children's Dyslexia Centers. Each center must fully fund and oversee its operations; the Portland CDC budget for 2022-23 is $165,000. Additional funding would allow us to serve more children, including hopefully the 52 on our waiting list. There are several ways you can help:
The Maine Masonic Charitable Foundation provides $2 for $1 matching grants (up to $3,000) to Lodges in support of the CDCs. Please urge your Lodge to take advantage of this generous opportunity.

The L.L. Bean Raffle should fund up to $18,000 (11 percent) of our budget. Tickets are $10, and the three winners will be awarded $1,000, $750, and $500 L.L. Bean gift cards. Tickets are now available at the Portland Children's Dyslexia Centers and from many Valley of Portland members. If you can sell tickets, please contact the Children's Dyslexia Centers at 207-773-4949 or call Tom Pulkkinen, the Center's Chairman, at 207-350-9525.

 

Our 2

nd

annual Festival of Trees will be held two weekends following Thanksgiving at the Portland Masonic Center. Thirty trees were donated last year for our first Festival, and we hope to have 40 this year. People buy raffle tickets and place them in collection boxes beside the tree(s) they want to win. If you or your business would like to donate a decorated tree with presents or become an event sponsor, please contact the Portland Children's Dyslexia Center at 207-773-4949 or call Tom Pulkkinen at 207-350-9525.  Also, please let us know if you would like to assist during this important fundraiser, which we hope will net over $55,000.
A Final Word: Leadership & Teaching Opportunities
The support of the Valley of Portland and the Northern Masonic Jurisdiction for the Children's Dyslexia Centers offers exciting, high-impact leadership and teaching opportunities.  If you or someone you know may be interested in learning more about these opportunities, please contact Barbara Labrecque at the Portland Children's Dyslexia Center at 207-773-4949.
Want to Learn More About the Valley of Portland?
Additional information about the Valley of Portland is available here and on our website. Interested in learning more about local events? Subscribe to our newsletter to stay updated and informed about upcoming events.
New brothers interested in completing the application can do so by filling out the online application here.