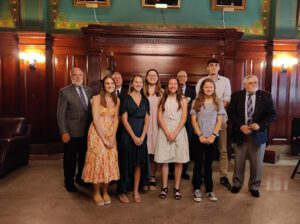 The Valley of Portland, Northern Masonic Jurisdiction, held its annual Leon M. Abbott Scholarship luncheon on June 18 at the Masonic Temple in Portland. This year we were pleased to offer scholarships to 18 very deserving local students, totaling $24,200.
Applications for annual Leon M. Abbott Scholarships are due by April 1 each year. Members, their children, and their grandchildren are eligible for these scholarships, and they may apply each year they attend college.
Pictured above at this year's luncheon are recipients Courtney Jackson–Gordon College; Kayla Jackson–University of New Hampshire; Kyle Fairfield– Rensselaer Institute; Lauren Johnson–Clark University; Margaret Boislard–the University of Maine at Farmington; and Jack Simonton–Wentworth University.
The officers in the picture are Maine Consistory: Ill. Claire V. Tusch 33°; First Lieutenant Commander, Rose Croix; Brian S Jackson–Most Wise Master, Lodge of Perfection; Jody J. Hersey–Thrice Potent Master, Princes of Jerusalem; Paul F. Poulin – Sovereign Prince. Brother Edward "Andy" Caron, Jr. received his scholarship at our June 25 Degree.
A big THANK YOU to all members who helped set up and clean up after the event!
REMINDER—Valley Secretary's Office Has Returned to the Masonic Temple
Just a reminder that, as of this past June 1, the Valley Secretary's Office has returned to the Masonic Temple at 415 Congress Street in Portland. The telephone number remains 207-772-7711 and the secretary's email address remains secretary@valleyofportland.org.
Want to Learn More About the Valley of Portland?
Additional information about the Valley of Portland is available here and on our website. Interested in learning more about local events? Subscribe to our newsletter to stay updated and informed about upcoming events.
New brothers interested in completing the application can do so by filling out the online application here.